Published: January 2, 2009
All That Glitters, Not Quite Golden
By CAREN CHESLER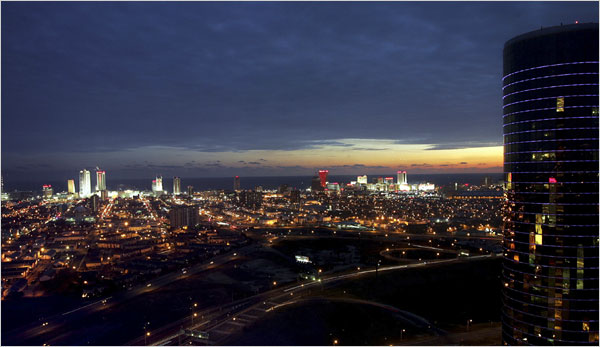 Photo by Aaron Houston for The New York Times
LOOKING DOWN An aerial view of Atlantic City in late December.
ATLANTIC CITY
CHAD Minnes, a 25-year-old bellman at Harrah's Resort Atlantic City, has his own barometer to tell him how the casino industry is faring as he goes about his job.
"Some guests are carrying their own luggage now, and the guests who do use our service aren't tipping the way they used to," Mr. Minnes said. "The staff is definitely getting depressed. People aren't making as much money, and there's all this uncertainty about what will happen next week or tomorrow."
Mr. Minnes's unscientific gauge is not too far off. Atlantic City, New Jersey's gambling mecca, rang in the new year facing myriad problems. The casino industry, the town's biggest employer, is in a slump, with revenues down for the third straight quarter, according to the state Casino Control Commission. The municipal government is suffering as well. In November, the city elected its fourth mayor in just two years, at a time when the city is grappling with one of the worst budgets in a quarter century.
The fates of Atlantic City and its casinos have always been inextricably linked. The 11 casinos here employ about 40,000 people — including around one-third of Atlantic City's population — and finance about 75 percent of the city's budget through property taxes.
The industry has already laid off 1,000 employees, and further cuts may be coming, industry officials said. In turn, that trickles down to the rest of the community, from the companies that supply the casinos with meat, to the cab drivers who transport their patrons, to the people who tote baggage for resort guests.
"Atlantic City is at a critical point in its history," said Damon G. Tyner, a lawyer at Parker McCay who specializes in real estate development. "Never have there been so many factors threatening revenues as there are now."
As go the casinos, so go the city's fortunes. A smoking ban imposed by the City Council illustrates the symbiotic relationship.
The Council passed a ban that would have extended the existing prohibition on smoking from 75 percent to 100 percent of the casino floors, allowing smoking only in sealed-off lounges where gambling was not permitted. But after the casino industry — and some of the very employees the ban was meant to protect — loudly complained that the ban would make them lose business, the Council voted to postpone a total ban at least for a year.
"This is not the time to play around with those kind of dynamics," said Robert McDevitt, president of Unite-Here Local 54, which represents hotel, food and beverage workers, some of whom feared a ban would cost jobs.
During the debate on the ban, some workers wore orange T-shirts that read, "I don't want to work in an ashtray"; others wore red T-shirts that read, "I don't want to work in an ashtray, but I want to work."
The casino industry is being hit by what many are calling the perfect storm: a national recession just as competition from slot parlors in Pennsylvania and New York has heightened. In November, at the same time that Atlantic City casinos were experiencing a downturn, six of seven casinos in Pennsylvania had an increase in revenue of nearly 13 percent. Some of that increase comes from midweek "convenience gamblers," who might otherwise have gone to Atlantic City, according to industry experts.
For the city government, preliminary figures show a $15 million budget gap, a situation that the city's new budget consultant, Arthur Bunting Jr., blames on the city's two previous administrations. Mr. Bunting says they prepared budgets using revenues they knew they would never get, gave lucrative 4 percent pay raises to city employees, and then used up nearly every penny of the city's surplus.
"They will finish this year with the lowest surplus the city has seen in decades," Mr. Bunting said.
But in a city where mayors often do not get to finish their terms, it is hard to lay blame for a budget crisis on any one administration. Robert W. Levy resigned in October 2007 after serving just over a year. He left office amid health problems and a federal investigation into veteran's disability payments he received.
The City Council president, William Marsh, filled in for a month before Councilman Scott Evans was appointed by the local Democratic Committee to serve until a special election could be held. Former Mayor Lorenzo Langford won that election in November and is now serving the last year of Mr. Levy's term.
Half of the eight mayors who served before Mr. Levy were either convicted or pleaded guilty to bribery or election fraud.
To those familiar with Atlantic City politics, the city's budgetary woes are sadly familiar. There have always been questions about how a small city with 36,000 people that has such few amenities — it does not even have a supermarket — can have a budget as high as $200 million and can afford to pay its lifeguards a pension.
Mr. Langford has his work cut out for him. He just got into office, and he already faces a primary challenge in June and an election in November — if he runs, which most say is likely.
City officials were looking forward to the tax revenues they would have reaped from several multibillion-dollar casino projects now suspended at least temporarily. While casino owners still pay property taxes on the vacant land, the figure would have risen exponentially if the properties had buildings on them. But with credit dried up, MGM Mirage's $5 billion hotel next to the Borgata Hotel Casino and Spa and separate $2 billion projects by Pinnacle Entertainment and the hotel developer Curtis Bashaw have been postponed indefinitely.
"Do I have a magic wand to fix the region's economy? No," Mr. Langford said. "Our role is to be accommodating when they come."
With those projects on hold, city officials are now hanging their hopes on selling Bader Field, a 143-acre tract of city-owned land that was once an airport and is now considered one of the last buildable casino lots available. But after receiving no bids the first time, the city recently had to extend the deadline.
"Bader Field is the local equivalent of the bailout that's going on at the national level," said Councilman Marty Small.
While the casino projects — and, potentially, the sale of Bader Field — have been derailed by the economy, developers say a revolving door on the mayor's office and the city's reputation for municipal malfeasance have not helped business.
"You have council people going to jail, a mayor resigning, an acting mayor for a month, and an interim mayor, and now that mayor is facing another election. Clearly, that instability is not a good thing," said State Senator James Whelan, an Atlantic County Democrat who served as the city's mayor from 1990 to 2001.
In the end, many say, it is the state, not local officials, that controls much of what goes on here. The casinos are regulated by the Casino Control Commission, the city's expressway and airport are run by the South Jersey Transportation Authority, the two convention halls are operated by the Atlantic City Convention and Visitors Authority, and much of the land here is held by the Casino Reinvestment Development Authority, all of which are state agencies. Even the sale or lease of Bader Field must be approved by the state's Local Finance Board.
"The mayor pretty much just sits back and counts the money and makes sure the city has adequate police and fire," said Mr. Tyner, the lawyer.
But Councilman Small, who plans to challenge Mr. Langford in the June primary, thinks state officials are unfairly tarring all city officials with the same brush.
"Everyone here wants what's best for Atlantic City," Mr. Small said. "People have to realize we're elected officials, but we pay taxes just like everyone else."
---
Copyright 2009 The New York Times Company